Accommodation, Caravan & Camping Facilities
Cabin & Studio Accommodation
We have a range of cabins and studios for you to choose from, each strategically positioned around the park to make the most of the beautiful views of the ocean, whilst maintaining your privacy.
Each cabins and studio sleeps between 2 and 6 people, depending on the style you choose, and is fully self-contained. With comfortable living conditions and everything you need for a pleasant and memorable stay, our cabins and studios are your home away from home. All cabins and studios have parking for 1 car only.
We have a number of powered caravan and tent sites available for camping enthusiasts. Each site has been purposefully placed within the park to be in close proximity to the park facilities and amenities. 
The powered caravan and tent sites supply you with electricity and water, and a short stroll from any site will take you to the beach, barbeque areas, facilities or amenities. The nearby local shops are within walking distance, making it easy for you to stock up on food and supplies. All powered sites have parking for 1 car only.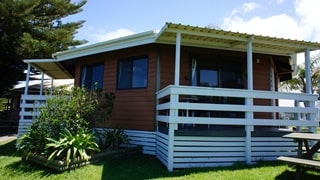 The Ocean View Cabins offer full views of Shelly Beach and provide a relaxing, laid back beach atmosphere. The cabins located at the northern end of the park sit right next door to Shelly Beach Golf Course, giving you a stunning outlook in a peaceful location.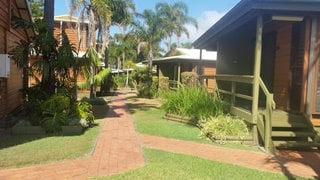 The Beachwalk Cabins are nestled amongst the gardens of the park and are only a short distance away from the beach. There are two types of Beachwalk Cabin available, with single or double storey, depending on your needs.
–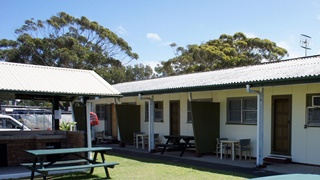 We have a range of Studios that are arranged in a terrace style setting, with a grassed communal outdoor BBQ area at the front. The Two Bedroom Studios have been recently renovated and feature a new kitchen, modern furniture and stylish soft furnishings.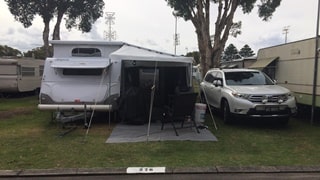 Our powered sites are located close to all the park facilities and amenities. With plenty of space to manoeuvre your vehicle, it makes setting up your caravan a breeze. Each flat, grassy site supplies you with electricity and water. 
Come and enjoy the beauty of Shelly Beach Holiday Park